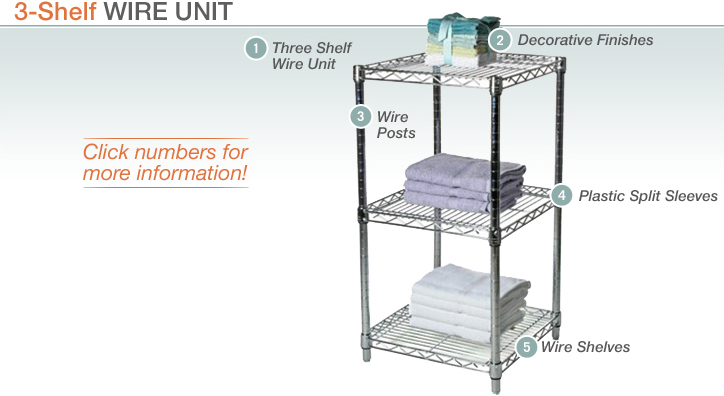 Our durable kits can be used as a reliable storage device that are able to support up to 800 lbs per shelf. They can also act as decorating accessories for the home. Our wire shelving kits are made of chrome-plated steel which allow them to compliment any existing decor. Each wire unit is available in many different lengths and depths to accommodate spaces of any size.

2. Decorative Finishes
Wire shelving kits can be used to decorate any room of the home. They can be transformed into plant stands, picture frame shelves, and many other decorative mediums. Place long, flowing plants on the wire shelves to create a soft look in the living room or kitchen. Collectibles, figurines, and pictures can be displayed on our kits to add a personal touch. Chrome wire shelf liners will also help to create a decorative, colorful look.

1" inch diameter wire posts provide a strong frame for the kits. Each wire post is engraved with grooves that are placed 1" apart along the entire post. These grooves allow the wire shelves to easily be moved and set at custom heights.

The black plastic split sleeves are an essential part of all our wire shelving. These plastic split sleeves effortlessly snap around the wire posts at the grooves. The wire shelves then slide over the sleeves, creating a tight hold and preventing the wire shelves from slipping.


The ventilated design of the wire shelves allows for virtually no dust accumulation, which makes cleaning simple and minimal. The wire shelves with smaller depths work well as decoration mediums. They can be used as plant stands, picture frame shelves, and much more.