Chrome Wire Shelving VS. Chrome Wire Epoxy Shelving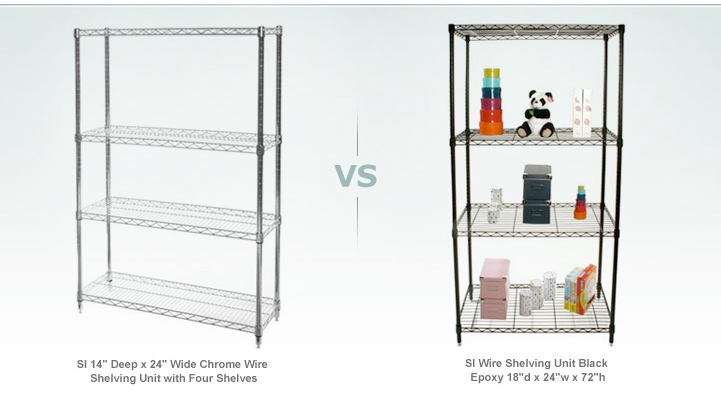 Chrome Wire Shelving
Chrome Wire Shelving is one of the most popular types of shelving for the home. A great storage solution for any room in your home, Chrome Wire Shelving is durable and contemporary. Chrome Wire Shelving is great to store anything from children's toys, to boxes of holiday decor or bulk containers of household supplies. Use them in any room from the garage to the pantry! The unique ventilated chrome wire design allows for less dust accumulation than most traditional types of shelving, great for people who despise dusting, or people with allergies.
Only Chrome Wire Shelving Units from The Shelving Store are fully customizable. We offer Chrome Wire Shelving Units in one to four shelf varieties, with many different size options to fit large or small areas in your home. We also offer Chrome Wire Corner Shelving in the same one to four shelf designs which are designed especially for corner displays.
Furthermore, many Chrome Wire Shelving Accessories are available. Purchase additional chrome shelves, shelf liners, wire baskets, document holders, drawers and even shelving casters to create a mobile shelving unit. These Chrome Wire Add-Ons are designed to help your shelving unit grow to accommodate and better organize your growing collection of stuff! The customizable options are also great if you choose to move the unit to another room, or move to a completely new home with new space dimensions.
Chrome Epoxy Shelving
Chrome Epoxy Shelving offers many the same benefits as Chrome Wire Shelving. Chrome Epoxy Shelving is essentially Chrome Wire Shelving with a decorative black or white Epoxy Coating. The Epoxy coating is ideal for spaces that require a wet/dry storage solution. Chrome Wire is metal and may rust under certain conditions, but the epoxy coating allows moist areas a sturdy, rust-free storage solution.
Black and white Chrome Epoxy Shelving is also great for people with pets and small children, because the epoxy coating helps better protect against the possibility of sharp edges.
Extra Chrome Epoxy Accessories such as shelves and posts are available to help customize or expand your shelving unit. You can mix and match the black and white shelves for a very contemporary shelving design. It's also easy to change the shelves from black to white and vice-versa if you are changing your decor. Using chrome wire shelving liners in multiple colors can also help match your shelving to your decor. Shelving liners are also great if you are storing smaller items that may slip through the wire vents.
Just like traditional Chrome Wire Shelving, Chrome Epoxy Shelving is available in one to four shelving units in varying lengths and heights to fit into your space properly.
Use your Chrome Epoxy Shelving in both dry areas and areas that require a wet/dry storage unit, such as the laundry room, garage, porch or basement to securely store almost anything found in these areas with ease.