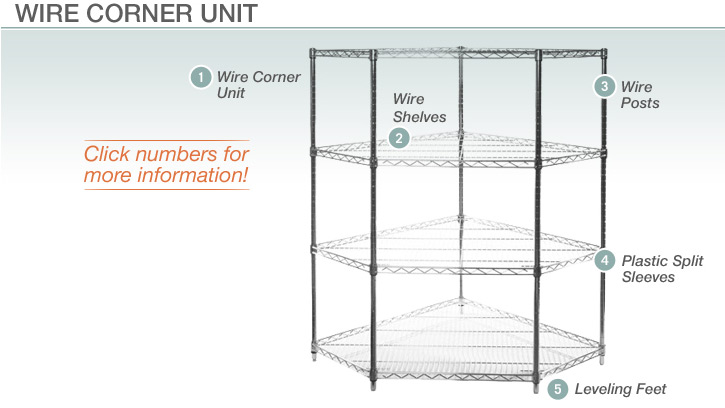 The corner kits are the have-it-all wire shelf. The 18" and 24" wire radial units, 18" and 24" wire triangle corner units, or the 18" wire pentagonal unit are sure to bestow a neat and stylish touch to any room. Transform any corner into a charming piece of home decor for storage of picture frames, towels or memorabilia with your wire corner kit.

Wire shelves are your ultimate organizer. No more worries about storing large or bulky objects with these wire shelves. The durability, combined with the ventilated design to maintain a dust free surface will not only add simplicity to your basement or garage, but will also reduce time spent on cleaning. Our wire corner kits come in a wide array of shapes and styles such as pentagon, radius, basket, and wire wine rack shelves.

The posts are all made with 1" diameter, but are available in various lengths ranging from 6 to 96 inches tall. They are made of chrome-plated steel, creating an unmatched, sturdy foundation for the weight of the items on the corner kits. The wire posts offer a simple way to install the plastic split sleeves, and accommodates a wide range of height options as needed.

Plastic split sleeves make an incredible accessory to go with your wire corner kit. Adjust the wire shelves of your corner kits in the location of your liking with the plastic split sleeves. Make sure your wire shelves stay in place with split sleeves.

Align your wire corner kit to perfection with the leveling feet. These leveling feet make it possible to place your kits in any corner of your home. Whether it rests on carpet, wood, tile, or laminate flooring, your wire corner kit will keep your things organized.