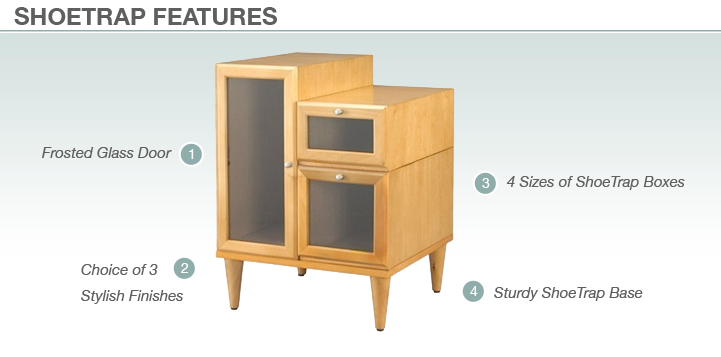 ShoeTrap Products are the best shoe storage product on the market. We love the many custom features to every ShoeTrap unit, and we know you will too. With stylish and functional ShoeTrap products you can store all your shoes from boots to sandals with ease. Stack and design your own unit that is large enough for many shoes, or small enough for just those few special pairs. Learn how customizable ShoeTrap products can stylishly store your growing shoe collection.


Each ShoeTrap Cabinet or Box is equipped with a pull door featuring a frosted glass window. Frosted Glass offers a decorative touch to your shoe storage unit, especially if your ShoeTrap unit is kept in a common area of the home. The glass window allows you to easily see which pair of footwear is stored in each box, allowing you to locate the pair you want easily. You'll never waste time searching or the shoes you want again.


Every ShoeTrap Storage unit is unique to it's creator. Choose your ShoeTrap Boxes in one of three stylish finishes to coordinate with your home decor. ShoeTrap Cabinets are available in Cherry, Maple, and Mahogany finishes. ShoeTrap Storage units can be stacked to look like part of your closet storage system or serve as an addition to your dressers. With 3 finish options you can choose the finish that best matches your furniture, effectively storing your shoes in style.


Solid Wood ShoeTrap Cabinets come in 4 different sizes to properly store many types of shoes. The sizes include boot and purse boxes, flat and sandal boxes and heeled shoe boxes. Each box has similar lengths, so you can stack these boxes in whatever way you wish. The ways to stack and store your shoes with ShoeTrap products are truly endless. As you acquire more shoes, you can purchase additional boxes and grow your unit over time. With individual ShoeTrap Boxes for your shoes, you'll never be stuck with a mate-less shoe.


In order to build your ShoeTrap unit, you'll need at least one sturdy ShoeTrap Base. This base has short posts, slightly elevating your unit off the floor. The solid wooden ShoeTrap stand provides the study base you'll need to stack your selection of ShoeTrap Cabinets. When creating a larger ShoeTrap Unit, you can use several ShoeTrap Bases to provide the support to stack your many cabinets. ShoeTrap bases and cabinets are easy to move and re stack, allowing you to modify your design over time.