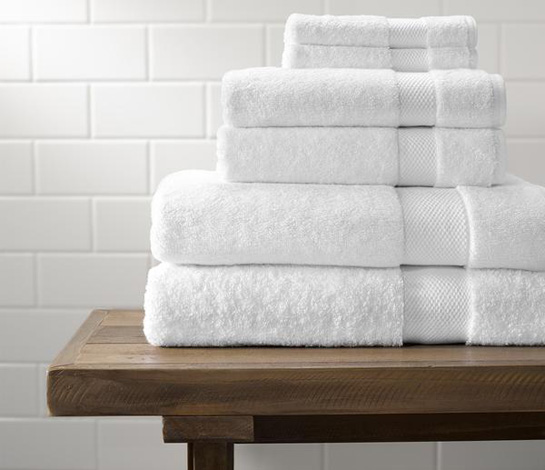 Towels! Endlessly useful in the bathroom, always a pain to put away.
Sure, there's always towel closets, but what about when you're fresh out of the shower and need to towel off? And where are you supposed to put it when you're done? And what if your towel closet is running out of room?
It'll be okay! All you need is a little bathroom space and some imagination. We've collected some of our favorite towel storage ideas here for you to try out in bathrooms of any size:
Get a second shower rod: When you're getting out of the shower or bath, a towel is pretty much the first thing you reach for, right? On a lot of showers, a second tension rod can be installed underneath or alongside the shower rod to create a new space to keep a towel right at hand, as soon as you need it.
Think inside the bath: Inside the shower itself is another great place for towel racks. A lot of bath shelves and racks can be hung up inside the shower itself to hang onto whatever you need (much like a shower caddy) and to keep your towel close by.
Make your cabinets work harder: Odds are you have a cabinet door or two underneath your sink, and if you're looking for somewhere to keep your towels when they're not in use, adding storage to these doors can be just the trick. Get some over the door storage on your cabinet doors (or bathroom closet door, if possible) to hang onto unused towels and free up room on the shelves that bulkier towels can start taking up.
Set up smaller storage pieces: Bathrooms can start getting a little cramped if you have too many shelving installations, so keeping an eye out for smaller solutions can be just the thing your bathroom needs. Look for smaller shelves that can go in out-of-the-way areas, like shorter racks or over the toilet storage shelves to keep it out of the way and prevent your bathroom from feeling too cramped and unusable.
Keep it mobile: Another great idea for towel storage is to keep it on a cart that can be moved around wherever you need it to be. By stashing your towels on rolling wire carts or rolling wire storage, you can free up space in your bathroom and roll your towels wherever you need them, whether you're keeping them right by the shower or rolling them out of the way when you need to get under the sink to find that soap you needed.
Got another tips for towel storage? Drop a comment below!
Read more »