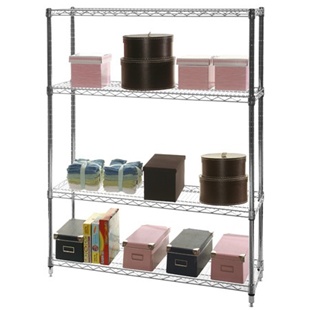 Chrome wire shelving offers simple to build and stylish storage solutions for any room in your home. The kitchen, living room, bedroom, laundry room, garage and office are all popular areas to add this modern, stylish shelving.
A
popular
home
storage
trend these days, who knew chrome wire shelving had so much to offer--besides a cool look?! Besides being
extremely
sturdy and durable, chrome wire shelving is an ideal shelving system for dry storage areas and dry goods, where cleanliness is an important issue. The wire shelves do not act as a trap for dust and dirt. This easy to build shelving is also ideal in areas where air circulation is required, such as the office, bathroom or laundry room.