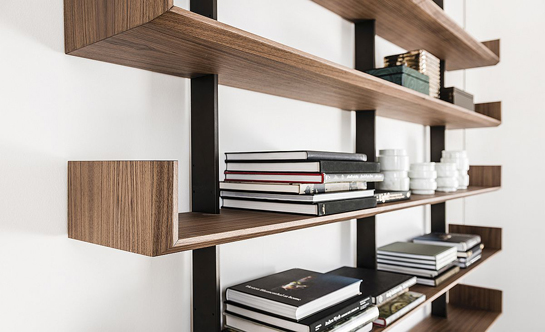 There's a big design trend in homes these days to use more neutral tones for certain rooms; a lot of whites, off-whites, and beiges to create a more 'subdued' look.
It's a look that goes great in a lot of rooms, but if you're the sort that fancies yourself an interior designer you might notice that it can be a little hard to decorate with sometimes. The neutral colors can find themselves oddly contrasting with anything you try to decorate with, and it can make it more difficult than you expect to arrange things in a way that's pleasing to the eye.
We think we have just the thing: wood shelves! Wooden wall shelves are a good, neutral way to add more 'rustic' looks to a room and add storage space without worrying about contrasting colors or mismatched tones. The possibilities are nearly endless, but here's a few ideas we've seen and liked:
Mirror storage: A good way to open up any room, especially one with solid lighter colors, is with strategic placement of small mirrors to make the space feel bigger. Use wood shelves (or other wall shelves) to hold mirrors and expand a space.
Coordination: For more neutral-colored rooms, an easy solution is to use earthy tones splashed about the room to provide greater contrast. Pair wood shelves with darker, wood-colored dining room furniture or living room furniture to get a more cohesive look.
Bathroom spas: For master bathrooms (which are generally white or lighter in color anyway), wood shelves are a great way to create a more relaxing, spa-like atmosphere. Use them to keep things like bath salts, lotions, and anything else you need to relax.
Office nook: Unless you have a dedicated office in your home, converting an unused corner in another room into an office can be a good way to maximize space but it can feel 'forced'. Wood shelves can help complement your home office desk and maximize your space without the bulk of bookcases or other big shelving installations.
Room to sit: If you have larger bay windows or an unused corner in a larger living room, wood shelves are the perfect complement to a couch. Set up a couch or loveseat in front of the window and place wood shelves around it - if the couch matches the white room, wood shelves will help add a pop of color and give you somewhere to keep your books.
Have you used shelves to decorate a primarily white or neutral-colored room in your house? Drop a comment below and tell us how it went!
Read more »