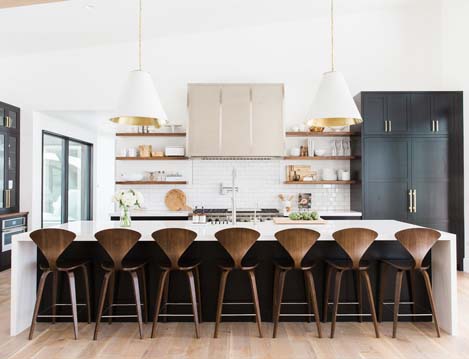 "Openness" has been an increasingly popular trend in home & apartment design lately, and that goes from the floor plan to the closet and all the way to the home shelving you use.
Open shelving has been popping up in living spaces of all sizes thanks to its ease of installation and even greater ease of use—but is it right for your home?
Above and beyond the decorative aspects of it, open wall shelves can actually do a lot to help keep the various rooms of your home better organized while providing a nice visual enhancement, even if you're just using them to help keep your rooms cleaner.
Check out a few ways that open shelving can help around your house:
The Kitchen
Open shelves, especially more durable ones like metal wall shelves, are always a good decision inside kitchens due to their ease of access—and let's face it, you probably have a good amount of stuff in your kitchen that could use a more organized home. Depending on where they're placed, open shelves are perfect for storing dry ingredients (spices, herbs, sugar, etc), serving trays or mixing bowls, or utensils (but try not to keep them too close to the oven to prevent heat issues!) right where you need them most without having to fight through the old junk drawer.
Living Rooms
In the living room, open shelves are a great way to reduce clutter while also giving you more opportunity to decorate a little bit. Unless you need them to support a ton of weight, more 'decorative' shelving options like glass wall shelves and wood wall shelves can match a variety of previously-existing living room decorations (so you never have to fret about it matching your mom's couch that you were gifted). These can be a good spot for books you want to display (either old favorites or something you've been meaning to read), family photos or knicknacks you're particularly fond of, or just some small succulents or cacti. A good tip is to remember what you're stacking on them, though—areas prone to bad windstorms or earthquakes might not want to put your old porcelain that high off the ground.
Dining Rooms
Most dining rooms seem to be full of a ton of stuff you use all the time, and almost as much stuff that you don't. While your everyday-use dishes, silverware, and the like are better off kept accessible at ground level, open shelving can be a great way to store things like stemware and those fancy plates you got on your wedding day that you're saving for just the right time and place. Pair it with a wall mounted wine rack to help keep all your entertaining wine right at the dinner table where you need it.
Bathrooms
Bathrooms tend to be harder to organize than you'd expect—there's already closets and cabinets, but those can fill up quickly and, well, there's a lot of stuff we need to keep in bathrooms isn't there? Open shelves can solve a lot of those problems. Try putting some up on the wall closest to your shower to help organize towels and keep them right at hand where you need them, or hang one up over the toilet (ideally high enough and far enough back to prevent bumping into it with your head) to keep paper towels, toilet paper, and any other needed bathroom supply where you can quickly get to it.
We'll be back soon with more open shelving organization tips, but in the meantime leave a comment below if you've recently put wall shelving up in your home and tell us what you think!
Read more »