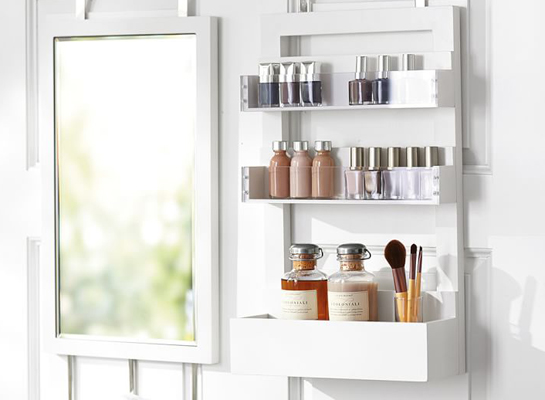 When was the last time you took a look around a room and said to yourself "I wish I just had a little extra space in here"?
Was it within the last few days (or, if you're reading this at home, the last few hours)? It's a common issue that many households face, but there's frequently an easy solution that gets overlooked: over-the-door storage!
From racks to hanging baskets to entire shelves, the backside of doors is a great solution to a number of storage issues that smaller rooms can experience. Below, we've collected a few of our favorite uses for over-the-door storage, where they can be used, and how it can make your storage problems easier than ever:
Extra pantry space: Pantries have a history of getting cluttered, especially if none of your ingredients are old enough to throw out and you just know you're going to need them soon enough. Instead of finally having to purge all those spices, get some over-the-door baskets for some of your bigger items like boxes of pasta and canned goods to free up space and make everything that much easier to reach.
Towel storage: By installing either a towel bar, a shelf, or a wire basket on the inside of one of your bathroom doors (either the door leading into it or the door leading to your towel closet, if you have one) you can greatly expand the space you have for clean towels and prevent any awkward situations on your way out of the bath next time.
Accessories—scarves, hats, etc: With a little imagination, the back of your closet door can become an excellent place for accessories like hats, gloves, and scarves. Take some coat hooks or rails of some kind (long handles, curtain rods, etc) and mount them inside the door of the closet to provide easy, hanging access for things that don't quite work on either shelves or hangers.
Extra shelves: Whatever the room, whatever you use it for, a lot of spaces could benefit from some extra wall shelves to hold things, but sometimes the walls themselves just don't have the space. Instead, mount these to the inside of a nearby door (the door to the room, the door on the closet, etc) to provide that much extra storage room.
Magnetize it: For the particularly crafty out there, we've seen many good examples of people using magnets to hold things like kitchen supplies. Take a thin sheet of metal with some trng magnets and mount them to the inside of a door—it quickly becomes a great way to hold pots and pans, makeup tools, and much more.
Has your house benefitted from over the door shelving? Let us know in the comments!
Read more »