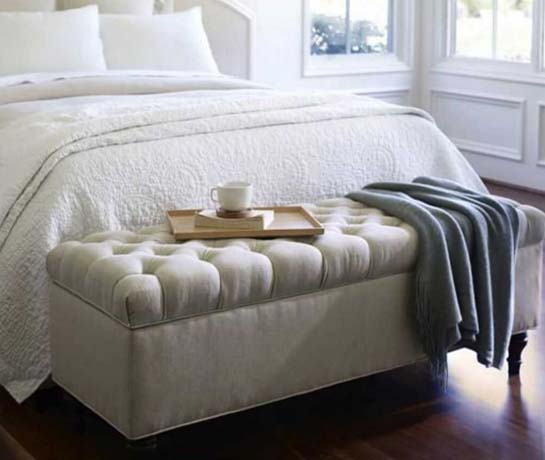 Offering more storage than your average couch, while still working as a functional and viable piece of furniture, storage benches are an increasingly common sight in many homes for their versatility and style.
The advantages are pretty obvious—additional sitting space while adding some extra shelves or storage room? Who doesn't need that in a room or two at their house? 
Most people get a new storage bench and assume it belongs somewhere in the entryway, and while that's always a good call, there's a few places you can keep a storage bench that you may not have thought of right away. If you're trying to figure out if a storage bench is the right call for your home, look no further!
Extra bedroom storage
A storage bench placed at the foot of your bed can be an excellent way to both allow extra storage for things like shoes or out-of-season clothes and provide an extra seating area to make getting ready in the morning easier. Try to find one that coordinates with your bed (if it matches your dressers, even better) and watch how much faster your morning routine goes. If you're thinking about going this route, you might be able to find specially-designed bedroom storage benches that meet your needs.
Replacement coffee tables
Instead of a standard coffee table, many living rooms are turning to storage benches to serve as their main table and hold things like coffee table books and other types of decor to help liven up the room a little bit. The storage capacity will let you keep things like magazines, TV remotes, and video game controllers safe at hand, and in a pinch you can use it as overflow seating if you have too many guests over one day.
Dining room table seating
Dining room furniture is a need that tends to vary depending on the home it's used in, but one thing is always true: everyone needs a place to sit! A lot of modern homes are streamlining their dining room chairs with storage benches instead, to help cut down on the space taken up by chairs and provide a place to keep tablecloths, place settings, and the like.
Porch seating
So long as the fabric is kept safe from the rain, porches are a great place for storage benches. The increased seating will allow more of your guests to hang out on the porch when the weather allows, and you can use the storage options for picnic blankets, candles, and anything else you want to keep outside during the nicer months.
Space division
One of the biggest trends in homes and apartments right now is open floor plans, a style of design that removes many walls and doors to provide a more open flow between rooms and spaces. These areas still need occasional division for the sake of navigation and flow, however, and storage benches are an ideal solution for these issues. Lay some storage benches between rooms to create a natural 'divider' and help each room feel like its own entity without having to resort to walls and doors like everyone else.
Have you used storage benches in your home? Leave a comment here!
Read more »