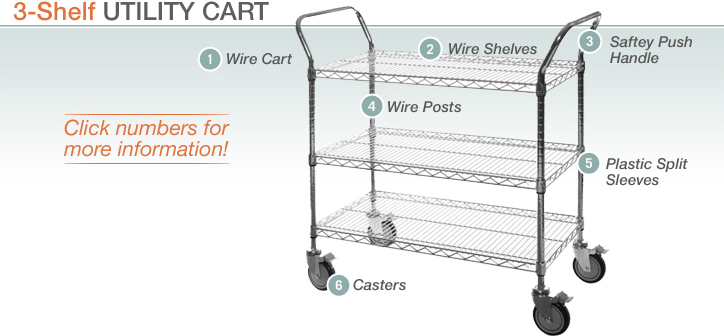 Made of chrome-plated steel, the carts are a practical and durable accessory for any home, restaurant, office, and more. The carts are available with either 2 or 3 wire shelves and the choice of various dimensions in order to match your specific needs. The sleek wire design can easily be incorporated into any commercial or residential decor. The strong casters add another advantage to the wire carts, making them mobile and easy to move.

Our wire shelves are available with either 2 or 3 wire shelves in various widths and lengths. The wire shelves will readily accommodate any storage need while retaining a stylish and contemporary look. The open design of the wire shelves also makes the wire cart virtually maintenance free due to the lack of dust accumulation. With the ability to hold hundreds of pounds per shelf, the carts are a smart accessory to own.

The safety push handles are essential accessories of the wire shelf cart. Use these chrome-plated steel handles to easily maneuver the cart through narrow passages and tight corners. Each end of the wire shelf cart is equipped with a safety push handle that spans the depth of the cart.

Strong wire posts are available in a 1 inch diameter and easily allow wire shelves to attach and move in 1" increments along the posts. Durable casters can be secured to the bottom of the wire posts while push handles can be affixed to the top of the posts in order to complete the mobile wire shelf cart.

A cart is the same as every chrome wire shelving unit because it needs plastic split sleeves in order to hold the wire shelves in place. The plastic split sleeves simply snap in place around the wire posts at the grooves that are placed 1" apart. The shelves then slide over the sleeves, creating a tight hold around the posts. With plastic split sleeves, wire shelves can be quickly and easily adjusted.

Wire shelf carts are equipped with polyurethane casters that can withstand 300 pounds of weight. They swivel a full 360 degrees, making it virtually effortless to move the wire shelf cart. If the cart needs to stay stationary, simply apply the brake of the caster and it will remain securely locked in place.