Customer Testimonials

Customer Testimonials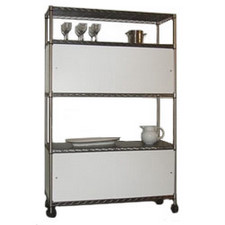 "I ordered shelf enclosures, ran into a snag, had to return one and order a different size. I also had broken one of the plastic clips and the lady I spoke with said she would include a couple extra with the replacement order. She was absolutely delightful to speak with (I wish I could recall her name), and truthfully, I was skeptical about the extra clips, and sure enough, they were there, even with a handwritten note on the hardware box section that they were located in there.

I was also worried about hassles returning the one enclosure and getting another, but that went smoothly too. Your company was delightful to work with, and the enclosures look terrific. I bought the enclosures for my 88 year old mother and her 54 inch tall shelve unit to make her an office center in the kitchen (where she spends most of her time) and at first it was too modern for her, and now she's loving it. Keep up the good work, and look forward to dealing with you again. I normally don't write kudos, but felt it warranted with your company."
- Chris Karnes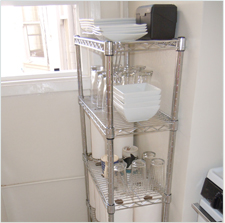 "We love living in San Francisco where the hills are huge and the opportunities are never-ending. Unfortunately, on our budget, that means living with a kitchen that is small and narrow, with not nearly enough shelves. We love to experiment with new recipes and cook dinner for friends, so we knew we needed more kitchen shelving. The Shelving Store let us build a unit with just the right dimensions to fit our unique space, and the shiny chrome adds a fun sparkle to the room. Now we would recommend the Shelving Store to all our city-dwelling friends!"
- Sara, San Francisco
"Your Ball Claws Rock!"
- John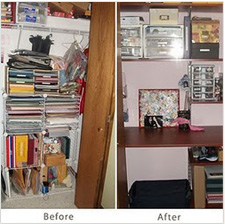 "Amy, your designer helped me create this custom scrapbooking closet and workspace with the Schulte products. I am really happy with it, I can store all of my stuff and just close the closet doors when Im done working. Thank you so much! Here's a before and after photo!"
- Wendy

"I ordered 2 short blue lockers for my boys ages 8 and 5 for Christmas and I just wanted to let you know that of all of the gazillion things they received from us, grandparents and santa that these are the absolute favorites! They've already decorated them w/ magnets and drawings etc. Everything cherished goes into to those lockers. boy, what a hit! Thanks, I'm so glad I ordered them!"
-Melissa

"I absolutely love my freedomRail System. It was easy to install and is so versatile. freedomRail is terrific in my sewing and craft room. I am only 5 feet tall so the shelves are great for my sewing machine because they are adjustable to fit my height. The smaller drawers are perfect to organize my thread and the taller drawers store all of my other crafts and patterns. The Shoe Cubby organizes all of my scissors, bobbins and other loose items. I can't say enough about how useful this shelving system is. I don't know what I would do without it!"
- Kristi, A Happy Crafter

The Shelving store
"In this age of "no service" anywhere, it was a very pleasant surprise to find there is still "service" available. (Your Staff) was efficient, helpful, made good suggestions and I am very happy with the shelving results I now have in my craft workshop. My only regret is that I live too far away to shop regularly at your store, I would most definitely recommend The Shelving Store.Your company is to be commended on it's selection of personnel."
- Joyce, Muskego, WI

Replacement Shelves
"I received the replacement shelf today. Couldn't have been any faster! I really appreciate how kind & helpful you were regarding the defect & replacement. Some places can be so hard to deal with over the most minor problems. You are a breath of fresh air. Plus slowly my basement is getting uncluttered & organized. fyi- I bought shelves from both you & Frongate. You have much better options with respect to size , but what really sets you apart are the casters. Yours are much sturdier. Looking forward to getting a few more as money becomes available."
-Lynn